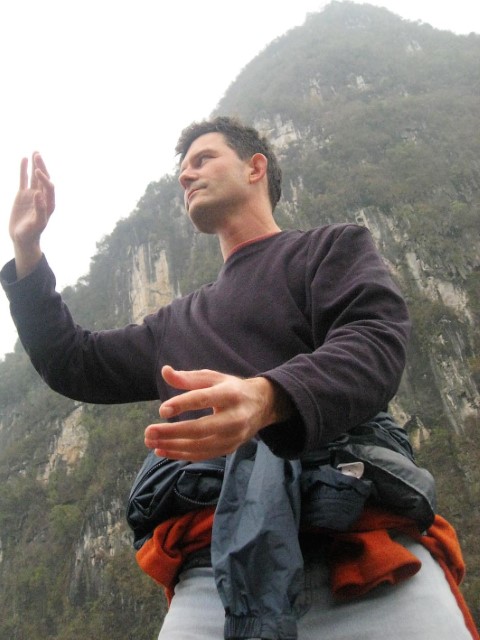 About the Teacher
My name is Anthony Fidler.
I'm now 50, and have been a serious practitioner of Tai Chi since 1997.
I've been very fortunate over the years to have been able to carry out most of my Tai Chi training intensively in China, on a personal basis with good teachers.
My Tai Chi encompasses both Yang and Chen and I'm passionate about both.
I practiced Simplified Yang 24 & Competition 42 for ten years, but switched over to Traditional Small Circle Yang Long Form in 2009.
Small Circle Yang 85 (108) is a beautiful form.
I also practised Chen Lao Jia for many years, finally studying with Chen Zhao Sen in Chenjiagou, but in 2011 was introduced to Chen Xiao Jia 64.
A simply beautiful form, it answers my desire of many years to find a Chen form which combined the inner depth and sensitivity that I find in the Yang style taichi, with the circular silk reeling energy of the Chen Style. Amazing!
My Teachers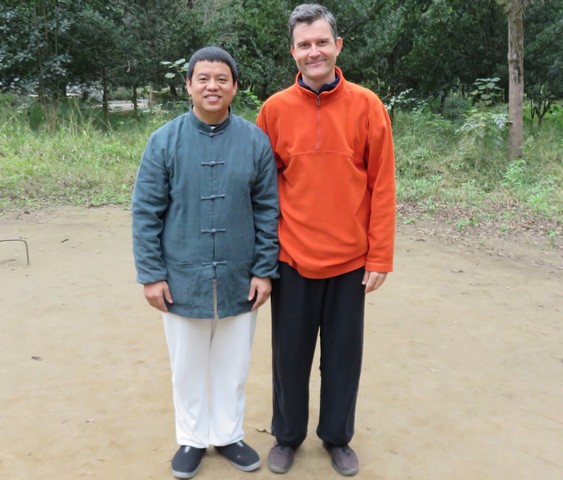 Anthony with Yang Dong Bao, Yangshuo 2013
In 1997, I met a teacher called Wang Zhi Ping in China. We met 1-1 for many years in Yangshuo park and then later at his school. I liked his movement and it inspired me very much at the time.
In 2007 I learnt Chen Style with Chen Gao Qiang, a young teacher from Wang Xi An's training school in Chenjiagou.
In 2008, I met Chen Zhao Sen in Chenjiagou and continued my study with him through to 2010.
Since 2009, my main teacher has been Yang Dong Bao, a very quiet, gentle man, with a good lineage and clean high level Tai Chi. I have learnt Yang Long Form 85 (Xiao Jia - Small Frame) and Chen 64 (Xiao Jia - Small Frame) with him and am really happy with them both.
My own journey is still an ongoing process, but Tai Chi is a very rewarding part of my life and one I wouldn't want to have missed for anything.
Detailed Tai Chi CV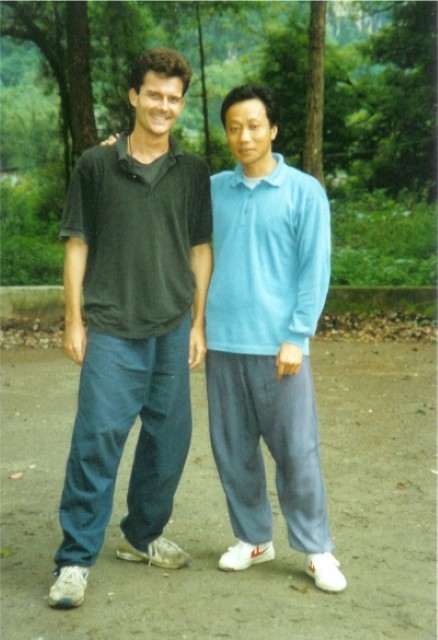 Anthony with Wang Zhi Ping, Yangshuo 1997
My experience of Tai Chi started in a minimal way while at University 1989-92, and then restarted in a life changing way in 1997 when I encountered my first teacher, Wang Zhi Ping in Southern China.
I practiced every day from then on and returned to China specifically to study in 1998, 1999, 2000, 2001, 2003, 2005, 2006 and 2007 each time staying for 2, 3 or 4 months and having one to one classes each day, generally twice a day.
My average training time would be four hours a day, sometimes six.
In 2008 I built up a new relationship with one of the Chen family Grandmasters, Chen Zhao Sen and continued my training with him for month long visits in 2009 and 2010.
I also learnt Traditional Yang Long Form with Small Circles with Yang Dong Bao in 2009, letting go of my practice of Beijing Style 24 & 42.
We continued our work together through the Autumn of 2010.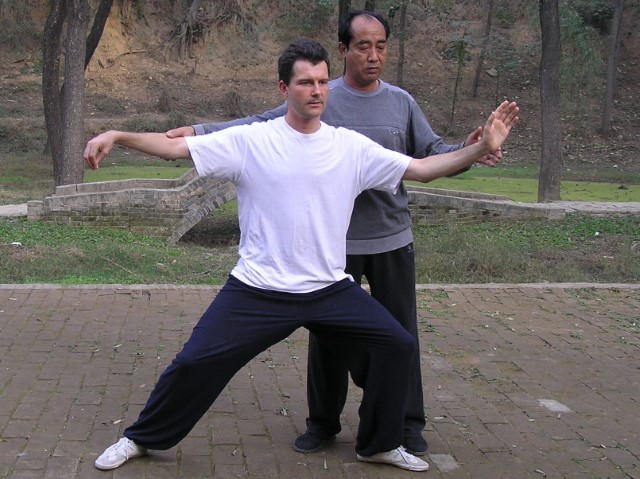 Anthony learning with Chen Zhao Sen, Chenjiagou 2009
My training with Yang Dong Bao continued for further 2-3 month stays in China throughout the Spring and Autumn's of 2011 and 2012 and through the Autumn of 2013.
And then I switched to annual one month visits from 2014 to 2018.
I now practise Traditional Yang Long Form 85 (Small Frame) & 24 in the same style and a soft Chen Style Tai Chi Xiao Jia 64.
I offer teaching in Yang Style 24 and 85 Long Form with an emphasis on the traditional style of movement with small circles.
I am also now planning to teach soft Chen Xiao Jia to appropriate students.
News / Events
Upcoming Events:
---
Recently Completed: